Hotel marathon: The Perak Treasure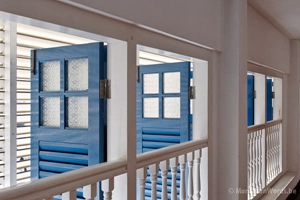 Travelling, you sometimes come across something rare. It might be an exotic bird, a stew that has cooked for 48 hours, an unexpected talent the love of your life seems to have (e.g. cold bloodedness in dealing with cockroaches) or… a hotel with a treasure.
We have been on the road for over seven months now. 221 nights to be precise. A few nights that we spent in our tent or in friendly people's houses aside, every single night has been spent in a hotel. Describing the common features of the rooms we've slept in, would give us the following list: a bed and a door. Everything else has been different, to say the least. From rooms with private thermal jacuzzi's to rooms without water in a 5 kilometer radius. From hotels with a fancy bar to accommodation where our emergency food stash was eaten by bugs. From rooms where we couldn't even fit all our bicycle panniers, to entire family bungalows, where we could count the bedrooms to chase the insomnia. 
Some of the places where we put our pothole-shaken limbs and car horn-tired minds to rest, will not be forgotten easily.
The 'bungalow park' in Turkey, where they kept the restaurant open until well after closing time, so we could watch Desperate Housewives on CNBC on the restaurants television.
The Abricham Hotel in Iran, where the staff offered us fresh fruit when we sat in the lobby for hours, trying to pick-up a wifi signal and where the most forthcoming front desk officer on earth personally drove us 240 kilometer to the airport during the night, knowing he had to resume his shift at 6 am.
The Miranda Hotel in Bali, where the lady of the house boiled two buckets of water for us, so that we could wash the mountain cold away.
The Tugu in Java, where we felt ashamed and privileged at the same time, overwhelmed by colonial architectural marvel.
Arriving in Singapore to arrange our visas for India, we weren't expecting much of the Perak Hotel, knowing it was at the lower end of the price bracket (which is still expensive enough by South-East Asian standards). But once in Little India, we said to each other 'even if the Lodge is a nightmare, the neighborhood is warm, colorful and charming so we will just spend our days hopping from one Indian restaurant to another'.
But Perak Hotel proved to be a pearl. A warm welcome in a beautiful former shop house, with blue blinds and a spotlessly clean charming little room. Customer service isn't just a marketing term at the Perak. When we mentioned that the mattresses were a bit too soft for the Photographer's back, they simply… changed the mattresses! Jamais vu. 
The decoration is simple but charming. Former visitors must have thought so too, because a discrete list points out the price of the bed runners and the cushions, in case guests would want to 'take them home as a souvenir'. But that list doesn't state a price for the biggest treasure of the hotel. That part of the hotel you'd just love to take home with you because it is so fabulously improving the quality of your life: J., the Philippinan front desk officer.
The man has a gift! In his personality, professional distance blends with personal attention, willingness to please with fine humor and thoughtfulness with… thoughtfulness.
On top of that, somehow our health became his concern.
Flaxseed is the key!
This post is exceptionally in English. Apologies if my use of the English language is somewhat peculiar!