Energie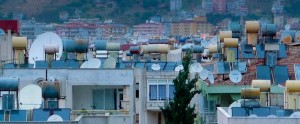 Energie haalde ik in Turkije vooral uit abrikozen, geroosterde hazelnoten en gekarameliseerde kikkererwten in een sesamjasje. Gezien de overvloed waarin deze energiebommen beschikbaar zijn, was zuinigheid het laatste van mijn zorgen.
Maar alles kan beter. Doorheen het Turkse land zagen we het ene staaltje van energiezuinigheid na het andere. Er zijn bijvoorbeeld nauwelijks gloeilampen. Onder de meest verfijnde lampadère piepen de twee staven van een spaarlamp uit. In winkels kocht ik vaak op de tast, ofwel moest ik small talk voeren tot mijn ogen voldoende gewend waren aan de duisternis (Turkse small talk was overigens stilaan mijn specialiteit aan het worden. Nog even en ik kon er een kapsalon openen). Soms werd het licht in de etalage speciaal voor mij aangeknipt maar ik was de deur nog niet uit of het werd weer gedoofd. Ook de bewegingsgevoelige sensor is omnipresent: je wandelt ergens binnen en het licht floept vanzelf aan en weer uit. Prima concept. Behalve op het toilet. Wanneer je namelijk niet binnen de paar seconden het toiletritueel afgewerkt hebt, zit je in het donker op je hurken, als een gek met je armen te zwaaien, terwijl je wanhopig tracht je wankele evenwicht te bewaren, hopend dat je ooit het toiletpapier, de uitgang en je lief weer zal zien.
Ook de zon wordt ingezet. Zelfs in het kleinste dorp staan de zonnepanelen broederlijk naast de schotelantennes op de daken. Het zijn niet de dure fotovoltaïsche varianten maar een hyper absorberend materiaal dat stralingswarmte omzet. Het is eenvoudig: op zonnige dagen is er warm water en op bewolkte dagen niet. Het bijkomende ecologische voordeel is dan weer dat we op die dagen héél korte douches nemen.
Ik denk nu ook wel niet dat Turkije een groen walhalla is. Zwerfvuil, roetzwarte uitlaatgassen, weinig recyclage, chemische landbouw, miljoenen plastiek tasjes… er is nog wel wat werk aan de bazaar.
Voor wie meer wil weten over Turkse energie-winning: klik hier. In het kort (en Engels): "Turkey is considered to have a large amount of wind, geothermal, and solar power potential. In January 2001, Turkey announced approval for 17 wind and one geothermal BOT power plants. Currently, wind power capacity in Turkey is around 19 MW, with units located all over the country. Potential for wind power may be as high as 120,000 MW, with particularly attractive areas for wind located along Turkey's west coast and in southeastern Anatolia. Solar energy is mainly used for roof-top hot water. Geothermal energy potential is estimated at around 35 GW." (Bron: Global Energy Network Institute).
Maar: "Today, the promotion of the use of renewable energy resources is vital for the future of all countries. Although Turkey has significant renewable energy resources for electricity production, this potential has not yet been used efficiently by local or foreign investors. The renewable energy resources in Turkey may be considered as a developing and promising opportunity for foreign and local investors, however, in order to attract the attention of investors, government has to make sure that the market conditions are appealing to them. The legislator in Turkey is taking important steps in order to promote the use of renewable energy resources in the production of electricity and to encourage the investments in this market. However, even if the Proposal were to be enacted without any change, the needs of the market may still not be completely satisfied. Therefore, the legislator must have a progressive approach regarding the renewable energy resources since there are always steps to be taken in such a developing and demanding market."(Mehmet Gün & Partners)